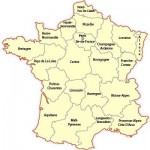 This well-known dish has its roots from the Burgundy region in France.  Beautiful Burgundy, known in French as "Bourgogne", is 100 km southeast of Paris, stretching 360 km.  It has more than 2000 communes, and is one of France's most fascinating regions, known equally for its historical political intrigue as for its dazzling architecture, excellent wines, and rich cuisine.
  Boeuf Bourguignon, a delectable beef stew, celebrates its roots through homage to its prized Charolais cattle.  Reputed for their distinct taste, low fat content, and gentle temperament, the creamy white Charolais bulls,  found around the Charolles region of southern Burdundy, are used extensively in the making of bœuf bourguignon.  The cattle are fed only hay, fodder, and cereal, which produce healthy cows.  The meat is very tender, and used for stewing and grilling.
Today, Boeuf Bourguignon is famous throughout the world, thanks to prodigious French
chef Auguste Escoffier, who first published the recipe in the early 20th century.  Over time, the recipe evolved from honest peasant fare to haute cuisine, and Escoffier's 1903 recipe became the standard-bearer, using a whole piece of beef in the stew.  Much later, Julia Child used beef cubes rather than a whole piece, bringing boeuf Bourguignon to the notice of a whole new generation of cooks.
This dish is prepared by braising the beef in a full-bodied, classic red (Burgundy) wine.   It is then stewed with potatoes, carrots, onions, garlic, and well-seasoned (during the stewing process) with a bouquet garni , or a small satchel of thyme, parsley, and bay leaves.   Traditional preparation of this dish is two days, to continually tenderize the meat and to intensify the flavors of the stew.
In late August, celebrations in Bourgogne laud the prized Charolais beef.  There is the "Fête du Charolais",  a festival that takes place in the Burgundy town of Saulieu.  Musicians, meat lovers and farmers alike gather in the streets, inviting anyone to enjoy an unforgettable gastronomic experience having traditional "Bœuf Bourguignon".
Try your hand at making it.  Great dish for a large party; best in cool weather.   Recipe for Boeuf Bourguignon: click here.